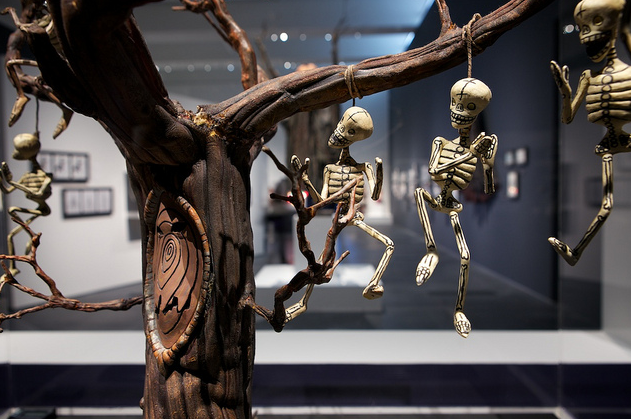 Fino alla fine di Ottobre presso il Los Angeles County Museum of Art sarà possibile ammirare una gloriosa retrospettiva su Tim Burton, per poter esplorare l'intero universo del suo lavoro creativo come regista, artista, illustratore, fotografo e scrittore.
La mostra raccoglie oltre settecento disegni, dipinti, fotografie, storyboards, pupazzi, artworks e costumi. Inoltre saranno visibili al pubblico i suoi progetti personali meno conosciuti e più intimi. Molti di questi oggetti provengono dall'archivio personale dell'artista, così come da archivi e collezioni private di collaboratori di Burton. Centinaia di opere d'arte mai esposte prima d'ora e schizzi saranno affiancati da una selezione di manifesti di film accompagnati da musiche composte per la mostra da parte di Danny Elfman collaboratore di lunga data di Burton.
Se avessi un biglietto aereo per Los Angeles la visiterei volentieri ;)
The Los Angeles County Museum of Art presents a major retrospective exploring the full range of Tim Burton's creative work, both as a film director and as an artist, illustrator, photographer, and writer.The exhibition brings together over 700 drawings, paintings, photographs, moving-image works, storyboards, puppets, concept artworks, maquettes, costumes, and cinematic ephemera, including art from a number of unrealized and little-known personal projects.
Many of these objects come from the artist's own archive, as well as from studio archives and private collections of Burton's collaborators. Hundreds of never-before-exhibited artworks and sketches will be joined by a selection of film posters accompanied by music composed for the exhibition by Burton's longtime collaborator Danny Elfman.
If I had a ticket to Los Angeles immediately I'll go to visit the exhibition.
May 29, 2011–October 31, 2011
Lacma - Los Angeles USA